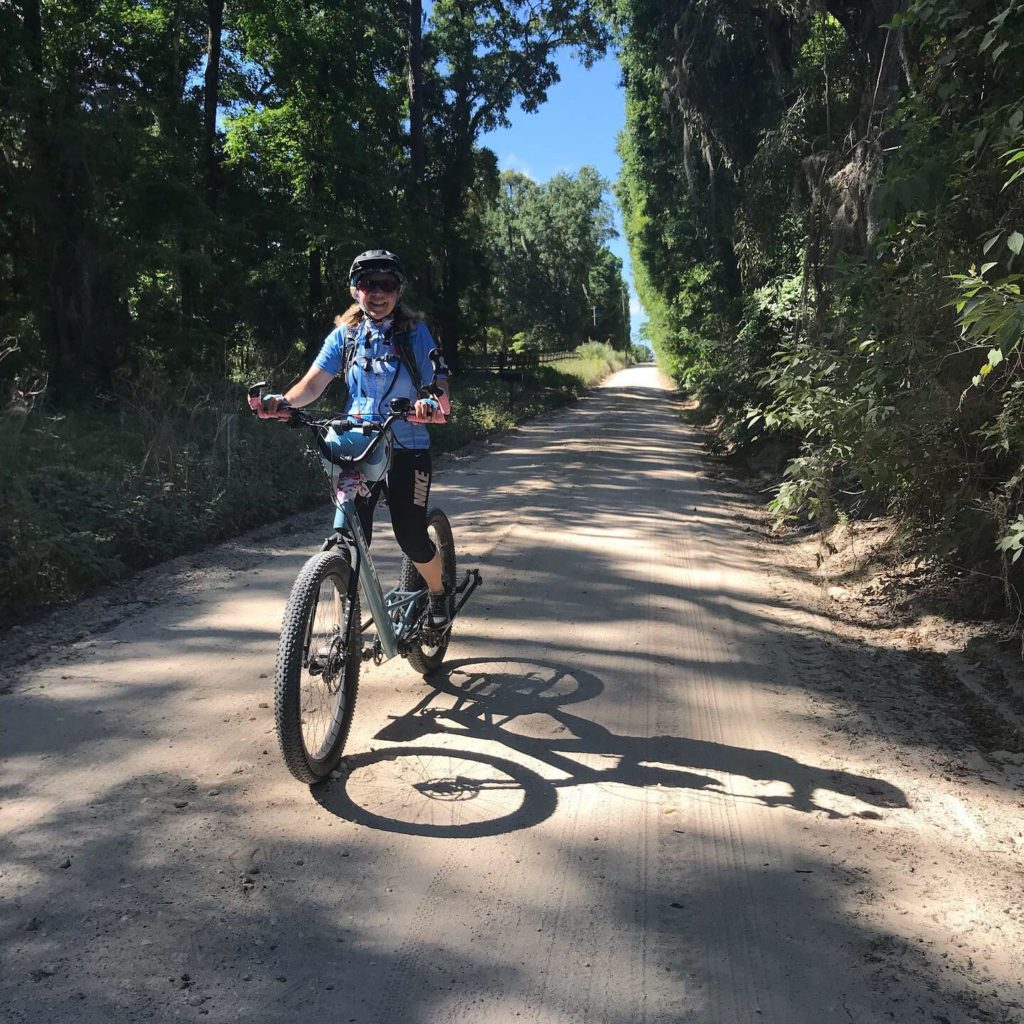 I have always been a runner/triathlete (even a Hawaii Ironman finisher) but retired my running days in my late 30's and started cycling seriously (road and mountain biking). A short while later, a back and tailbone injury sidelined me from biking altogether. I had really fallen in love with mountain biking and was crushed i had to give this up. Eventually i came across the ElliptiGo 8C and was happy to be sort of cycling again outdoors without a seat, but it was not the safest, and was only for road riding. Thankfully, I found the Cyclete webpage (just like you) and started watching the Cyclete evolve. After many conversations with Steven, and one test ride, I purchased Sadie (the frame color was 'Mercedes Blue' so i named her "Sadie") in Sept 2018 and couldn't be happier! I sold my Go because I noticed that after 5 months of owning the Cyclete, i hadn't touched my Go and it was collecting dust. I enjoy my Cyclete on paved trails, but I Love it even more for off road riding whether it is grass, sand, dirt trails, gravel, brick, or single track mountain bike trails. It makes me smile the entire way! I have reconnected with friends, nature, and my inner child since owning my Cyclete! Besides riding Sadie at the two best Mountain Bike trails in all of Florida, Im taking Sadie to the GA/NC mountains this year to explore popular single track mountain bike trails (disclaimer: I don't ride Black trails, jump, or put myself and Sadie at risk). After many miles and multiple terrains on my Cyclete, I can share Pros and Cons in my honest opinion: 
Pros: (my short list)
High end components (Sram), Disc brakes, fits perfectly in American made 1Up USA Bike rack.
Hand build takes place in USA at Steven Ascher's Cyclete Cottage. Thus he know your Cyclete personally.
Superior solid frame construction.
Love Love the big 29" 3.0 WTB wheels (actual size more like 30.5")
Quiet (ElliptiGo 8C/8S/11R has an annoying loud swishing noise)
Customer service is personal and top notch and available almost 24/7 (Steven sleeps a few hours).
No more being afraid of sliding or crashing when running over, or thru sand, water, acorn nuts, gumballs, indecisive squirrels (terrifying on Go), tight curves.
SAFER than other stand up bikes due to lower center of gravity and lower step off!
Disc brakes (so exciting)
COMES TUBELESS!! Not just "tubeless ready".
Ride itself is comfortable, natural, safe, fun (smile worthy), and the teardrop motion feels sooo good!
Can ride both road or trails. I love this option!
Improves my balance and coordination.
When used on mountain biking trails, i know it strengthens my neural pathways and muscle memory, and makes for a total body workout.
I am fortunate to have two other fun Cyclettes in town to ride with on weekends and holidays.
Cons: (only one):
I get "depressed" when i see Sadie in garage, and cant ride her that particular day!!