Cyclete Trail Runner VS ElliptiGO MSUB

Mountain Stand Up Bike - Same Goal - Different Results
Why compare SASCHER's Cyclete Trail Runner with the ElliptiGO MSUB?  This is a historical landmark as ElliptiGO enters into the Stand-Up Mountain Bike market.  Contrary to their marketing claims they are not the first and they certainly will not be the last. Nonetheless, it is a part of the evolutionary history of stand-up bikes.  It is also interesting to note that three companies SASCHER, ElliptiGO and Run4 (Bionic Runner) originally entered into the stand-up-bike market with the same common pursuit: to create a stand-up-bike with a motion that felt like running with less impact.  These three companies also imagined this stand-up-bike would have full sized wheels.
As you may imagine some of our prototypes looked remarkably similar.  We all started with an elliptical motion.  SASCHER and Run4 created a wide variety of mechanisms exploring other motions as well in pursuit of the perfect stride (see Cyclete VS Bionic Runner).  Until recently ElliptiGO as their name suggests made strictly elliptical products…
ElliptiGO Elliptical Mechanism
The elliptical mechanism used by ElliptiGO was licensed from Larry Miller and incorporated into their original ElliptiGO products.  ElliptiGO's original design had large wheels but resulted in a stand-up-bike about 8 feet long! The nature of this mechanism makes it difficult to make a stand-up-bike with reasonable length wheelbase and large tires. Given these challenges, ElliptiGO achieved a nice balance using 20-inch tires with a lovely frame incorporating this mechanism into their long stride products.
ElliptiGO's next evolution in design was the Arc with a much smaller elliptical path and simpler mechanism without the sliding tracks but still utilizing small tires.
Now ElliptiGO has created the MSUB with bigger tires but in doing so has abandoned the ellipse entirely.
ElliptiGO claims the MSUB is the first Mountain Stand-Up Bike.  Having made this claim, it seems appropriate to place the two Mountain Stand Up Bikes head to head.  The MSUB is a new platform for ElliptiGO to work from and perhaps they will now find a motion more like running that will fit into this form factor.  It took SASCHER many years to do so (see The Shape of Running).
The MSUB has a well-made frame with many similarities to our Cyclete frame.  The frame has a shorter wheelbase, higher bottom bracket (where the crankset mounts) with resulting higher center of gravity and higher step over.  The MSUB includes a suspension fork and ElliptiGO's telescoping handlebar.  While the MSUB handlebars appear to reach the same height as the Cyclete, due to the height of the bottom bracket the resulting height is a bit lower.
The Cyclete frame has a longer wheelbase with lower step-over resulting in more balanced loading of tires and lower center of gravity providing a more stable and safer stand-up ride. This geometry also provides easier mount/dismount.
While the frame and geometry of these two Mountain Stand-Up Bikes are similar, this is where the similarities end.
MSUB provides an entry level product very similar to a bike with specialized stand-up bike geometry for people interested in exploring the stand up and ride experience.
Cyclete Trail Runner costs 3 times as much as an MSUB and every Cyclete owner understands why (See Owner Reviews). Most importantly, Cyclete is the only product in the world with our patented teardrop motion that not only provides The Shape of Running but the kick.  Runners are arriving on race day injury free running better times than in previous years and credit the Cyclete. Cyclists that can no longer ride due to injuries, back and knee issues can enjoy exploring the countryside again in comfort and safety that cannot be matched with any other product.  Young people are borrowing their parents Cycletes for the pure joy of cycleting.  Whatever your reason, I hope one day you have the opportunity to experience the joy of cycleting and join our community.  We are not racing through life we are enjoying the countryside.
SASCHER continues the pursuit of the ultimate Cyclete with The Shape of Running that is comfortable and safe using top end components.  Each Cyclete is built one at a time by the same person that designed it.  Since we build them one at a time in the USA, we can also offer a variety of durable and environmentally friendly powder coat finishes.
When you are ready to step up to the best and appreciate The Shape of Running Cyclete is the only choice.
Happy Trails,
Steven Ascher
Look closely - the quality of a Cyclete can be seen in our components
Motion: Patented Running/Cycling Hybrid

Cranks: Dual 110 Stance / 225 Swing
Tires: WTB Ranger Tubeless
75-622 (Actual Diameter 30.4")
Derailleur: SRAM Eagle 1x12
Brakes: TRP Spyke Dual Actuation Disc
Kickstand: Hebie Adjustable Length-Made in Germany
Gates Carbon Drive Belt and Sprockets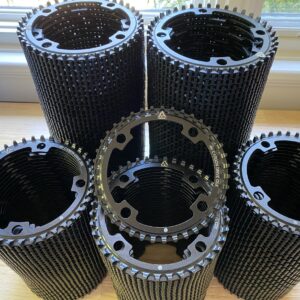 Running Gear with Made in USA
Titanium & 17-4 Stainless/CNC Billet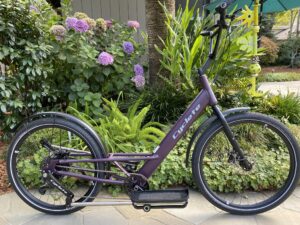 4 Rollers: Quiet Urethane with Aluminum Hub
Twin Replaceable Stainless Enduro Bearings
Made in USA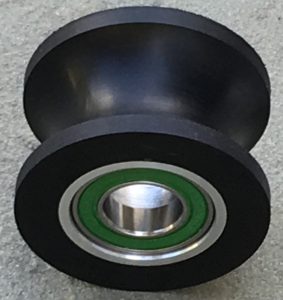 Tires: Kenda Honey Badger Sport
56-584 (Actual Diameter 27.4")
Derailleur: Shimano Deore 1x10
Brakes: Tektro MD-280 Single Action Disc