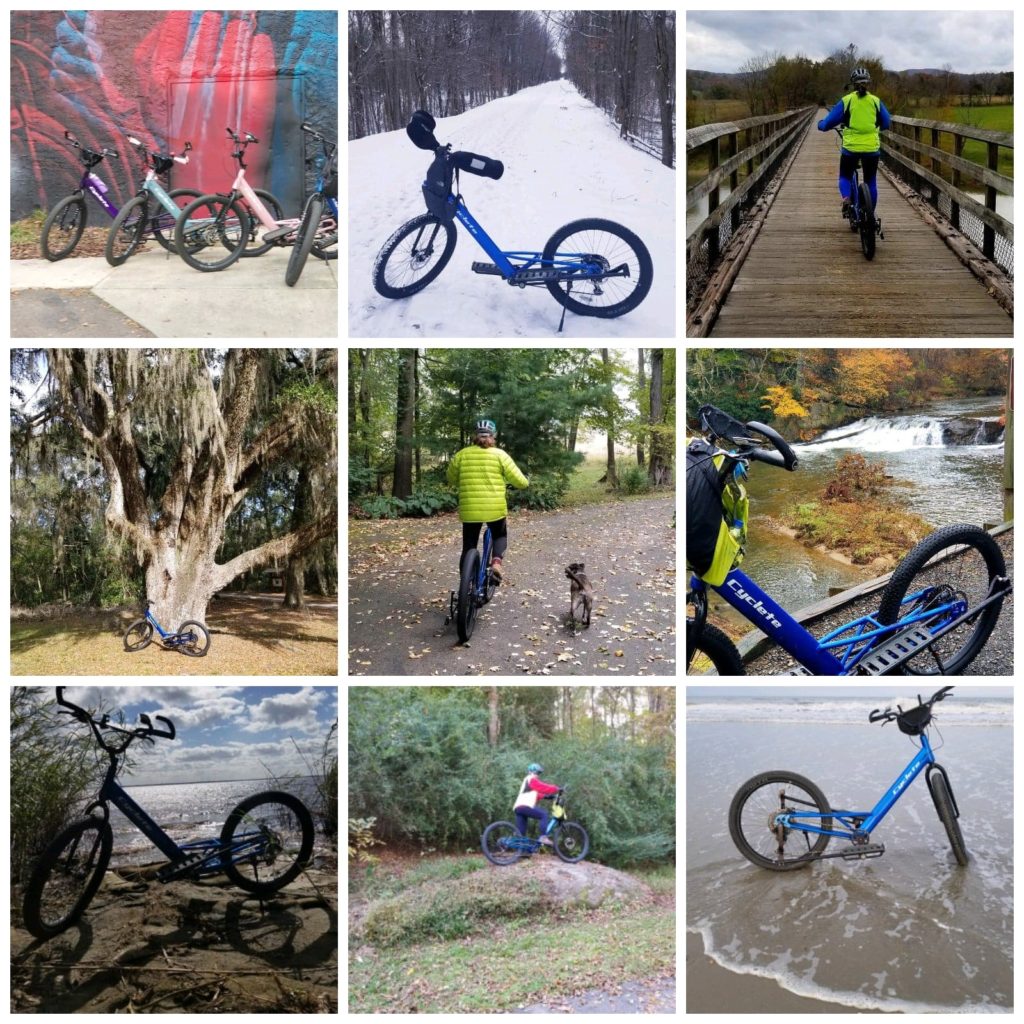 I am not a runner. I am not a cyclist. My athletic endeavors previously leaned towards team sports like volleyball and softball. I've aged, broken down, had multiple surgeries, and got very out of shape. I purchased a used long stride ElliptiGO a few years ago, and it opened my eyes to a whole new world of fitness without pain. I've ridden many miles since then, take bike tours, bike vacations, all miles on paved surfaces. The ElliptiGO does not do well on non-paved surfaces.  My safety was in jeopardy on my own roads- I always felt precariously perched and a whisper away from a catastrophic fall at any time. And then, one day last summer, I did crash. On asphalt. I cracked my helmet, I cracked my sternum. I'm lucky it wasn't more than that. And although I continued to ride my GO, I never looked up to see the scenery after that. I was obsessing over watching for every little crack, bump and lump in the road that may unseat me. Ride in the rain No way. Ride in autumn with leaves on the trail? Never!
Then a friend introduced me to the Cyclete. "You feel so much safer and more secure" she told me. " No more foot pain, no more numb hands from gripping the handlebars so hard.  Go try one". So I did. I drove 5 hrs to ride a Cyclete- it was love at first pedal.  I couldn't believe how much safer I felt IMMEDIATELY.  No learning curve. No videos necessary to teach me how to ride the Cyclete. It's as natural as running, it's true. I jumped curbs, found rocks to hit, you name it.  I know the price tag was steep for me, but the sense of safety and security was overwhelming. I almost cried with relief having found this machine.
Since my purchase in October 2018, my Cyclete has given me joy. I can ride anywhere, anytime. I rode through the winter, on ice and through snow. I plan vacations where I find trails I can ride along the way, or when I get to my destination.  2 weeks ago I rode it on the beach! 
I have confidence in this amazing product Steven Ascher has produced. I know he will take care of me and my Cyclete forever.  Customer service is like no other.
The large tires gives a supremely comfortable ride.  The lower center of gravity gives stability.  The platforms feel like they were made for my feet. The teardrop motion makes me feel like a runner- I am an athlete once again when I ride my Cyclete. I am an adventurer, seeing the world from my stand up position. 
Oh The Places You'll Go! A spin off of the Dr Seuss Classic
Congratulations!
Today is your day
You've bought a Cyclete
You're off and away!
You have brains in your head
You have feet in your shoes
You can ride the Cyclete
Any place that you choose.
You can ride on a road
On a trail, up a hill
Now YOU can decide
To go where you will.
The teardrop- like motion
So familiar it's true
You'll feel like you're running
So effortless too!
If speed is your game
You won't lag behind
You'll pass the whole gang
And quickly, you'll find.
Its Cardio! It's FUN!
All wrapped up in ONE!
You're off to Great Places
Today is your Day!
Your mountain is waiting
So… get on your way!